I asked on Instagram, how can I help? I heard , "simple meal prep ideas, please!"
I'm here for it. For starters, here's a simple no-bake homemade granola bar recipe that you make once, but will enjoy all week!
It's simple but not #basic, and you'll enjoy favors that are delicious and familiar yet on trend, like tahini and date caramel.
Here's the date caramel just getting started with a handful of dates:
I ended up using 25 deglet dates so that there was enough physical 'stuff' to blend, even in my mini-food chopper. This is the date caramel with dates and water – so simple:
Makes about a cup:
Here are all the ingredients. First row: organic oats, lightly salted pistachios, dried wild blueberries, chia seeds; second row: date caramel, tahini, roasted sesame seeds, Maldon salt. 
I put all the dry ingredients in a large bowl (the wild blueberries are a little sticky, so not quite dry, but not quite wet either. They went in the big bowl). The small bowl is the date caramel and tahini. The sesame seeds and salt stay on the side until one of the last steps.
As I combined all the "dry" ingredients, I took the opportunity to separate some of the wild blueberries that stuck together.
And here's what it looks like after pressing down with a straight-walled glass (like a Collins glass):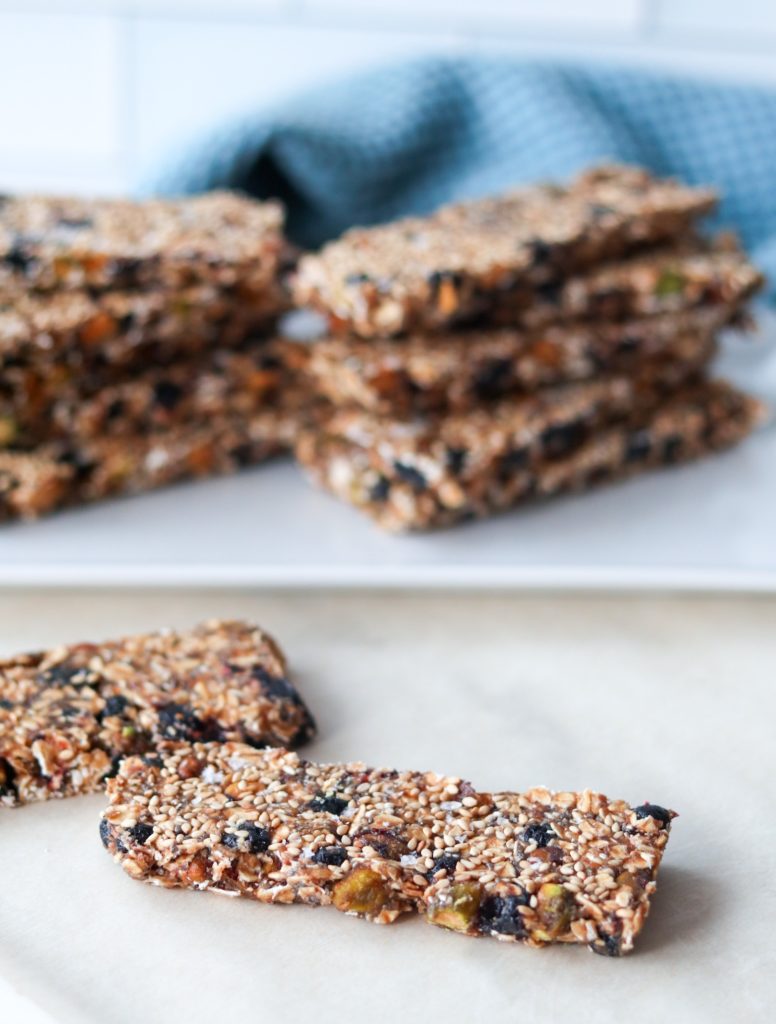 No-bake homemade wild blueberry pistachio granola bars
Author:
Maggie Moon, MS, RD
Nutrition Information
Serving size:

1 bar

Calories:

110
Fat:

4.5g

Saturated fat:

0.5g

Unsaturated fat:

4g

Trans fat:

0g

Carbohydrates:

17g

Sugar:

10g

Sodium:

20mg

Fiber:

4g

Protein:

3g

Cholesterol:

0mg
Prep time:
Cook time:
Total time: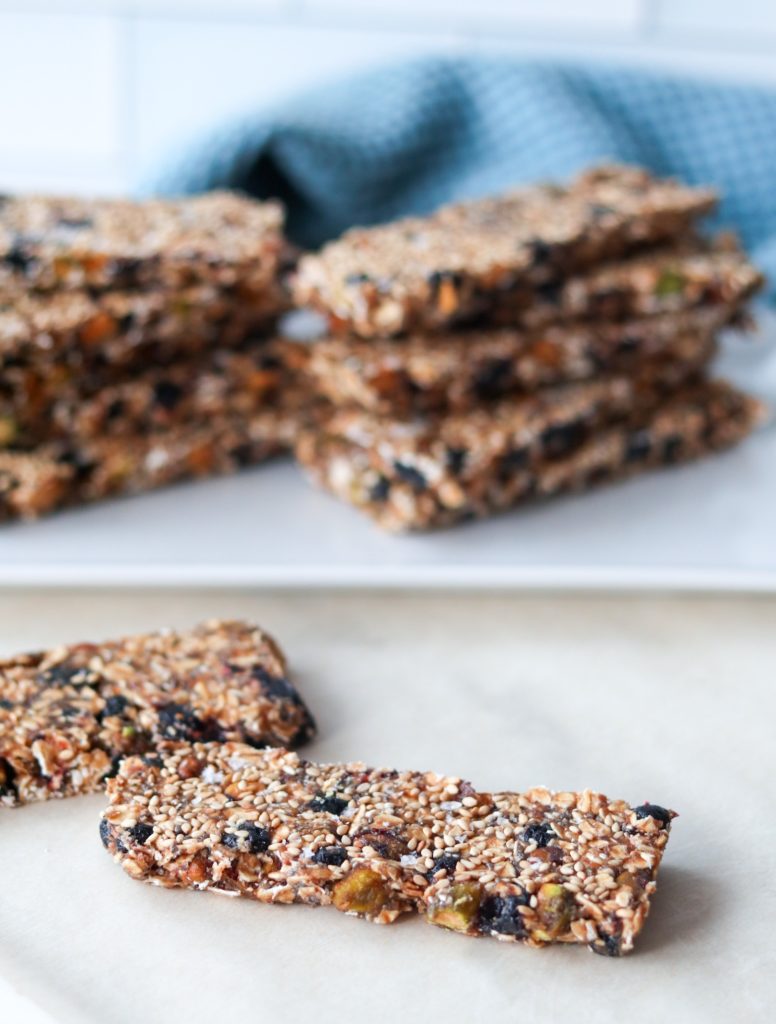 Simple, no-bake granola bars that work just as well for a snack as it does for a quick breafkast. These are packed with MIND foods: Whole grains, nuts, berries
Ingredients
1 ½ cups rolled oats
1 cup lightly salted pistachios
1 cup dried wild blueberries
2 Tbsp chia seeds
25 dates (neglet noor or medjool)
5 Tbsp warm water
¼ cup tahini
1 Tbsp roasted sesame seeds
½ tsp flaky salt (e.g. Maldon)
Instructions
Optional: toast oats (preheat oven to 350F, spread on a large sheet pan and toast for 10 minutes).
In a large bowl, combine the dry ingredients: oats, pistachios, blueberries and chia seeds, breaking up any blueberries that may be sticking together.
In a small food processor, make the date caramel: blend dates and water until smooth, pausing periodically to scrape down sides as needed, about 5 minutes total.
In a medium bowl, stir together the wet ingredients: date caramel and tahini.
Add the date-tahini mix to the large bowl with the dry ingredients, and mix with a silicone spatula until well-incorporated (alternate methods: clean hands, plastic gloved hands).
Spread the mixture evenly in a parchment paper or Silpat-lined small rimmed sheet pan (I used an 8" x 11.5" pan, but 8" x 8" also works)
Cover and freeze for 20 minutes. Gently invert out onto a flat surface and cut into 16 bars. Start by cutting in half lengthwise, then cut across widthwise in half, then cut each half in half two more times (7 cuts widthwise).
Store in an air-tight container in a cool dry place for a few days, a week in the refrigerator, or up to three months in the freezer.