A quick and simple summer entree
This recipe is so simple, and I just know I'm going to be calling on this one again when the holidays roll around. Just swap out the summer produce for the winter's best. It's HOT right now, and this dish is so light and inviting for summer. But I'm definitely fantasizing about cooler temperatures, and making this with roasted sweet potatoes, butternut squash, brussels sprouts and pops of color from pomegranate arils. Oooh and maybe some winter citrus like Cara Cara oranges, kumquats and Meyer lemon. Yum. But first, back to this dish —
So, I've been a fan of barramundi (sometimes called Asian sea bass) for years. I was first introduced to this fish when we were living in NYC and I was working on adding more sustainable seafood options to FreshDirect.com. I love that it wins on brain-healthy omega-3 fats and mild flavor. I recommend this one a lot to families for kids (or adults) who want to eat more seafood, but prefer a milder flavor to their fish.
Here are my favorite things about this fish:
There's that crowd-pleasing mild flavor, which is great of seafood-newbies and vets alike
It has the most omega-3s of any white fish! 600 mg omega-3s per serving (3 oz cooked), putting it on par with another one of my faves, wild salmon
I love that it's sustainably ocean-farmed and enjoys a mostly plant-based diet. It has a low carbon footprint and is a less common white fish, so choosing barramundi helps overfished populations recover. If you've never tried it, it's similar to halibut.
This gorgeous large filet is now available at the Costco near me in Southern California. If your Costco doesn't carry it, many retailers carry smaller filets in frozen form, which is also amazing.
Here's what I love about this recipe:
It's truly so simple, yet yields impressive results
I use a fool-proof method for perfectly cooked fish that is moist, never dry
Since it's low on active time, there's less to worry about when feeding a group
It comes together quickly. Even though it's cooked "low-and-slow," this is still fish we're talking about, so the time in the oven is counted in minutes, not the hours you'd expect when roasting any kind of meat the low-and-slow way.
Who doesn't love a one-pan meal?
MIND Foods: Fish, olive oil, vegetables

Quick slow-roasted barramundi
Author:
Maggie Moon, MS, RD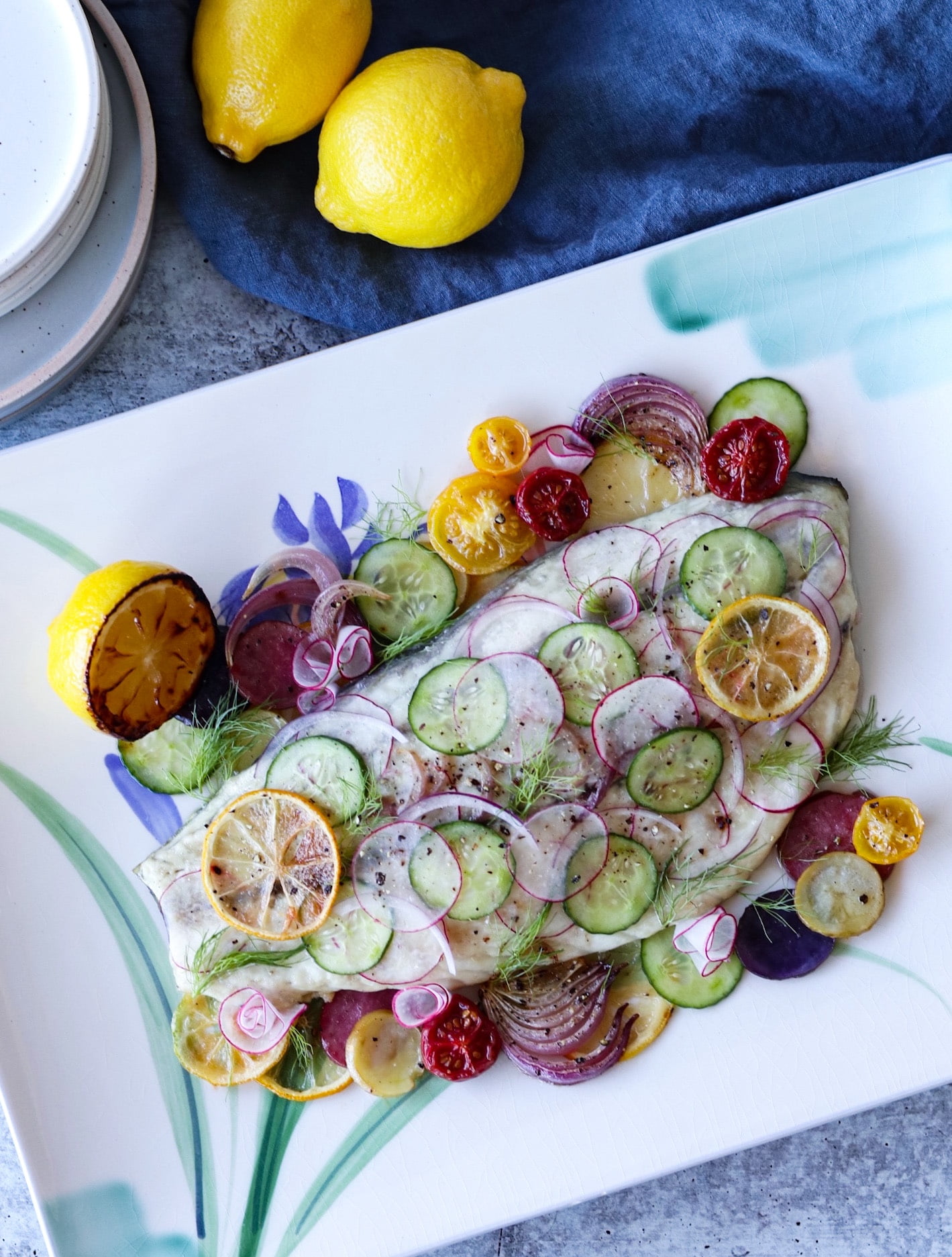 A secretly simple dish for a crowd that is at once so flavorful, yet also light and clean. Barramundi is a sustainable, mild-flavored, omega-3 rich fish, ticking all the boxes for a super-healthy entree with wide-appeal.
Ingredients
3 medium fingerling potatoes
12 oz cherry tomatoes
2 lemons
½ small red onion
3 lbs barramundi (2 large filets)
1 medium mini cucumber (6-7")
1 medium red radish
Olive oil, salt and pepper to taste
Optional garnish: fennel fronds, other herbs
Instructions
Wash and dry all produce, remove visible eyes from potatoes. Pat dry barramundi and season lightly with salt and pepper.
Preheat oven to 300F for at least 15 minutes, and line a large sheet pan with parchment paper (foil or a silpat also work)
Thinly slice potatoes into rounds (can use a mandoline or sharp knife), and arrange in a single layer on the sheet pan.
Halve tomatoes and arrange cut side up on the sheet pan.
Thinly slice one lemon into rounds, remove any seeds, and add lemon rounds to the sheet pan. Halve the other lemon width-wise and set aside.
Slice the red onion into thin wedges, slicing along the shorter end, and add to sheet pan.
Drizzle olive oil and season salt and pepper over entire sheet pan. If it becomes crowded, shift some of the contents to a second sheet pan.
Add the barramundi filets, skin side down, to the sheet pan. Drizzle with olive oil (or olive oil spray), and roast low-and-slow for 30-35 minutes total, rotating the pan 180-degrees half-way through. Cook until an instant-read thermometer reads 145F degrees.
While the barramundi cooks, prep the garnishes. Thinly slice the cucumber and radish into rounds. On two large serving platters, place a barramundi filet on each, then evenly divide potatoes, red onions, lemon and tomatoes (use a spoon to pick up the roasted tomatoes) around the fish.
Garnish with cucumbers, radishes, and fennel fronds or herbs, if using.